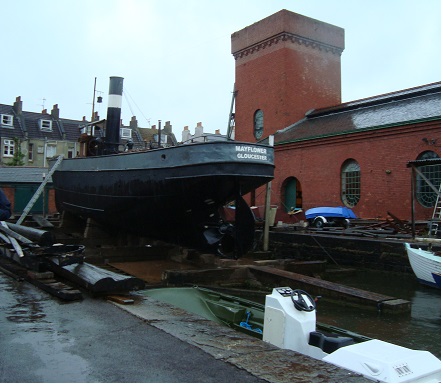 Keep an eye out for conservation and building work on their website.
We are hoping to see you at our Doors Open days so that we can:
show you the yard
share with you its crucial importance to the development and survival of Bristol, and
ask you what you think of our planning so far.
We will be showing you all the Victorian machinery that still keeps the harbour floating and the city dry; boats being built and the blacksmith's forge in action + an exhibition of historical information that we have been compiling for our Heritage Lottery application.
We will be asking you for your thoughts on our proposals for repairing the buildings, interpreting the yard and the activities we are developing.
Heritage Lottery Fund project
Bristol City Council passed the Scheduled Monument and associated structures to the Underfall Yard Trust for repair, maintenance, boatbuilding and maritime industry – and public access and benefit.
Our aim is to explain the critical importance of the dam and the sluices to Bristol, explain how this maintenance yard kept the harbour afloat – and share the history whilst still operating an unsanitised area of thriving maritime industries.
With financial assistance (following a round one pass in 2012) from the Heritage Lottery Fund, we have researched the buildings, the history, the machinery and the people who have worked at the Underfall Yard from Brunel to the present. We now have plans for repairing the structures, making adaptations for a sustainable future and a range of measures to share the interest and importance of the place with tourists, schools and Bristolians. http://underfallboatyard.co.uk/ for more details