Lamp posts
Many of the cast iron lamp posts have local founders plaques on. See Journal 41 2008: Survey of Cast Iron Lamp Posts in Clifton and Hotwells, Bristol BS8 by Maggie Shapland.
I was lucky to find enough decipherable manufacturers plates on lamp posts to be able to date the different styles. This was backed up by being able to look at old photos which often include lamp posts. It was however difficult to find out any information about the founders themselves except that they were all located in Temple Street/ St Phillips area by the river, and that sometimes they described themselves as engineers with other industries such as locomotive builders, motor cycle manufacturers, scale beam manufacturers and domestic appliances. There was an expansion of iron workers in the Victorian times- this being reflected in the ornate streetscape at the time. There were 22 iron founders in 1867, 10 in 1939. There was then a decline of founders and streetscape became more austere with concrete lamp posts, and the ugly steel posts of today. There is now only one founder in Bristol and he has only started up in the last few years.


Douglas business traded under this name after death of William Douglas the founder in 1937.
Kingswood
1937-1945?
aeroengines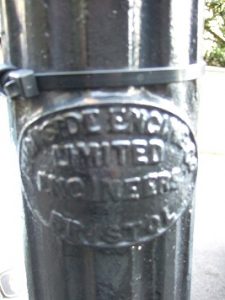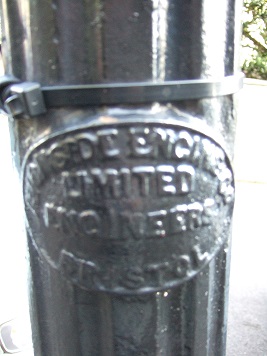 Started as Slaughter and co in St Phillips. Locomotive engineers. General engineering 1880s. Avonside Engine Co. Limited 1865 until 1882 then became Avonside Engine Co. after liquidation in 1885. Moved to Filwood Rd, Fishponds from St Phillips 190610. Became a limited company again in 1910. By 1927 advertised themselves as iron founders as well as loco engineers
Avon Street, St Phillips
1867-1934
avonside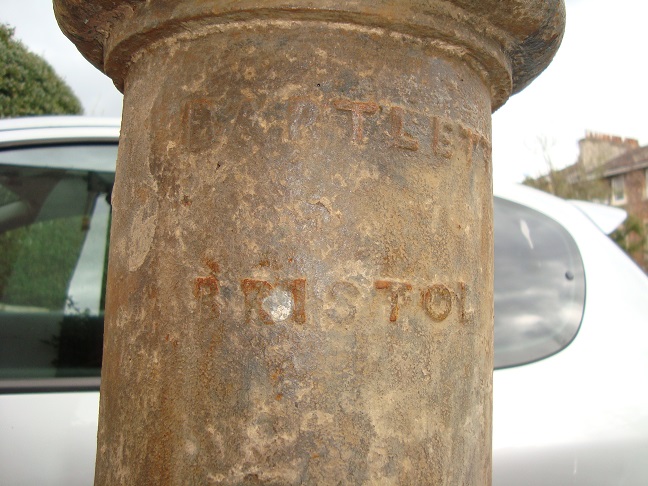 He operated from 1831 starting off at 16 Nelson Street. then with main office at 3 Welsh Back (1835-1910) as a weighing machine, sugar mill and imperial measure manufacturer. By 1860 he was an agricultural machine and implement manufacturer, engineer and iron founder at Temple Back too, and also became a weighbridge, sugar and coffee mill manufacturer, grocer and japanner. The firm was taken over as a going concern by Pooleys in 1910, who were in turn taken over by Avery in 1914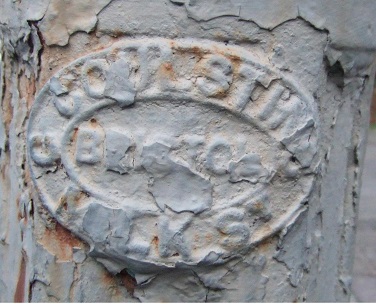 Milk Street. Started operating from 9 Milk Street (so from the same site as Charles Gurnsey had operated from) from 1887 as a tinplate worker, lamp maker and paint keg manufacturer. He then moved to 69 Milk Street in 1902. By 1919 he is described as a sheet metal worker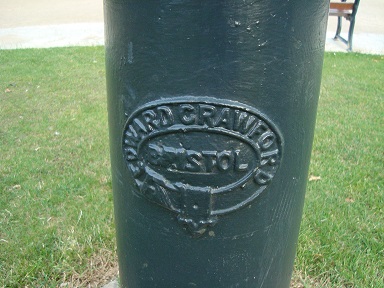 E Crawford iron founder and scale beam maker. John Crawford iron founder lived at 6 Greville Place Hotwells
39 Bridge Street and Cheese Lane, 15 Narrow Plain
1881-1912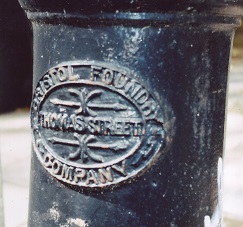 Ironfounder. Made the biggest variety of posts, for longest period- from Victorian times to mid 20th century
Thomas Street
1881-1958

Douglas started out making drain-covers and lamp-posts14 but in 1907, thanks to designer Joseph Barter, the company fitted a unique horizontal twin-cylinder engine on to a standard cycle frame. The Douglas motorcycle was born
5 Redcross St. Moved to Kingswood 1887?
1882-1935.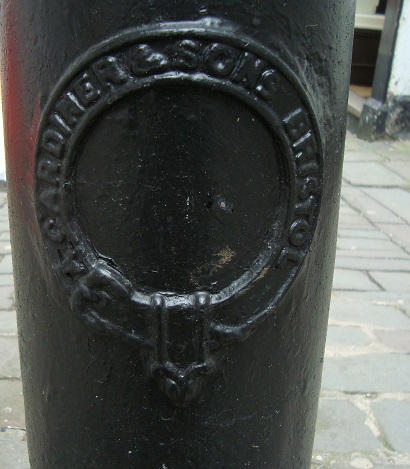 Firm started by Zacharius Cartwight as builders and cabinet makers, and ironmonger. When he died, firm taken over by Emmanuel Chilcott who took on partner Alfred Gardiner in 1860. Expanded to making windows, ironwork, church furnishings, lighting, and ironmongery
5 St Nelson Street, Midland Ironworks in Wellway St, St Phillips upto 1956. Now trading as Gardiner Homecare in Broad Plain
1860 to present day?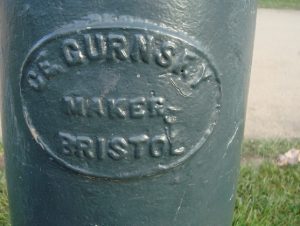 1870-1886 Started off as a tin plate worker and iron monger in 5 Milk Street, moved to 9 Milk Street in 1879 and described as fern case and lamp manufacturer. Also operated as Globe Works 43 Merchant Street.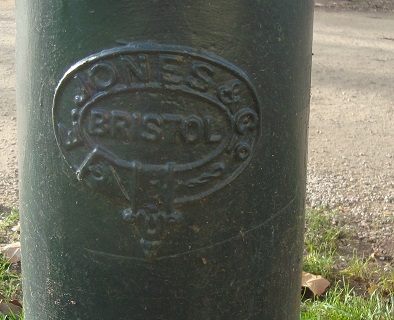 Edwin Jones ironfounder. Moved to Counterslip 1890 and became Jones and Calcott.
128 Redcliffe St.
1874-1890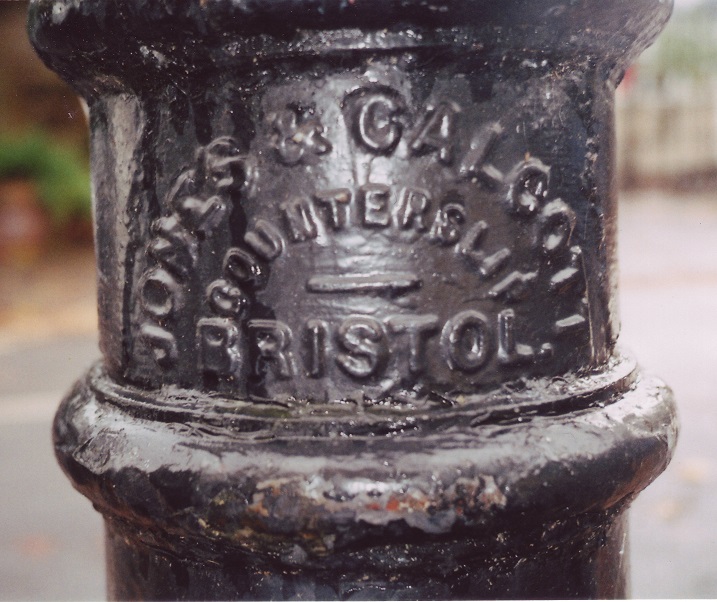 Jones moved from Redcliffe St in 1890
Counterslip (off Temple Street)
1890-92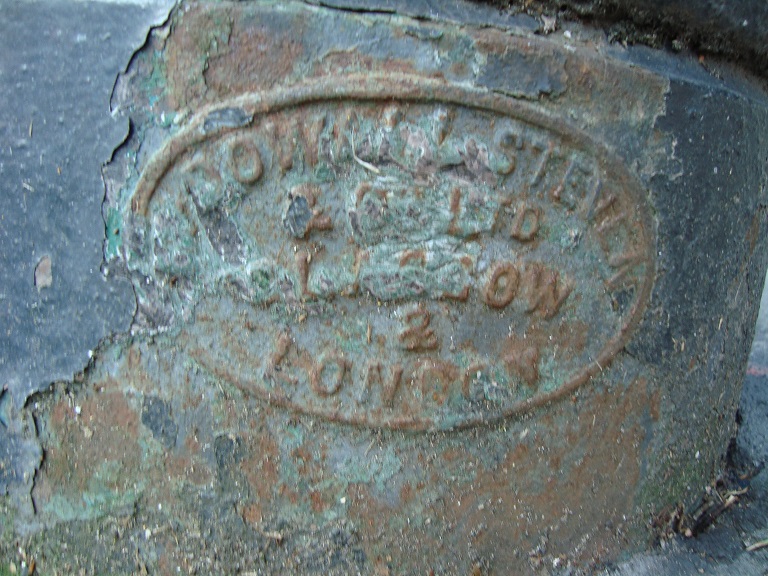 Mcdowall Steven had their roots amongst the founders of the cast iron industry in Scotland in 1804, perhaps the first true ornamental ironfounders in Glasgow. The most prolific period of the Foundry's success was from 1862 to 1909, after moving. The company became McDowall Steven & Co Ltd at the Milton Ironworks foundry. McDowall Steven & Co was incorporated in 1894 with the registration number SC002628, and was dissolved in 1964.
Moved to 142 Woodside Road in Glasgow in 1862
1894-1964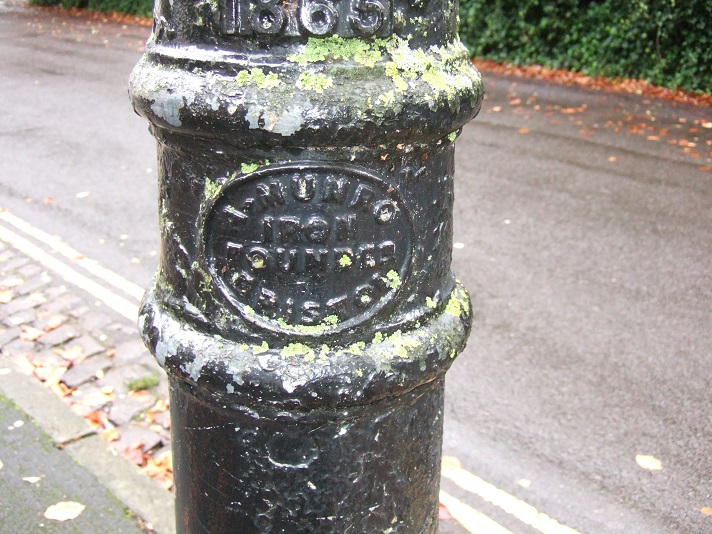 Iron founder and bent timber manufacturer
Meadow Street, then moved to Stratton Street in 1882
1865-1886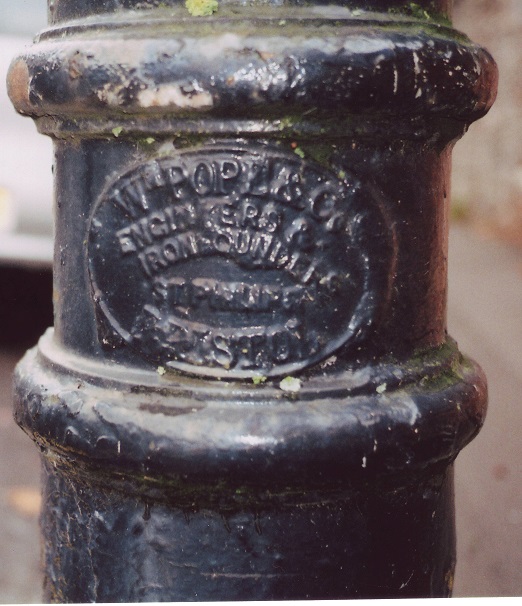 Piget 1830:Copper & Brass Merchant,Spelter & Patent Zinc Maker, Wire Manufacturer, Iron Manufacturer, Sheet, Battery & Brass Ingots at Avon Mills. Made many posts upto 1874, and a very ornamental one in Alma Vale Rd after having built a new foundry
1867 engineers at 102 Temple St. Moved to new foundry in Barley Fields in 1874
1830 -1894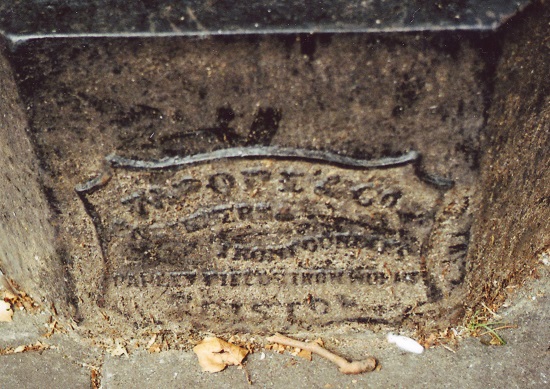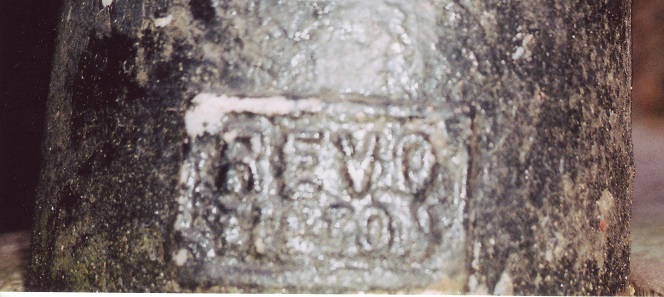 REVO had good range of ornate municipal brackets and lanterns. Custom items produced. Rose to prominence in 1930s. Started as Cable And Accessory, founded by Frederick Reeves, with Vaughan of VONO. Linked with Hardy And Padmore who probably produced some of the cast-iron brackets and columns. In 1960s REVO's streetlighting division sold to Tubes Limited who developed Relite range
Tipton, nr Birmingham
1930-60 The logo is from 1933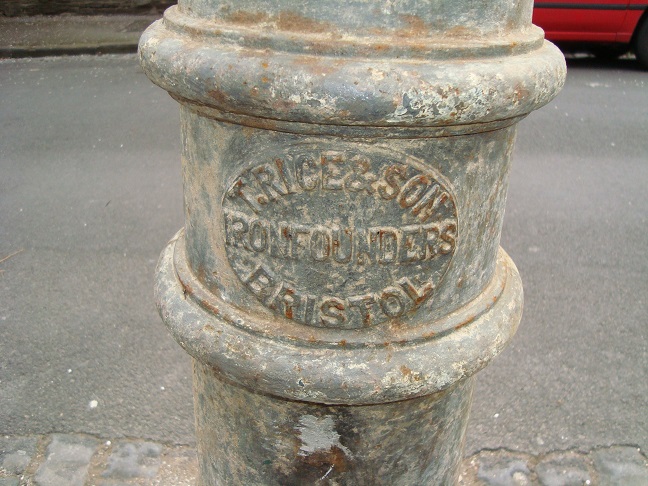 Rice Iron founder, millwright and engineer operating from Friars, Merchant Street 1850and 1860 then from 6 Broad Weir upto 1872. In 1880 John Watts iron founder operated from the same site.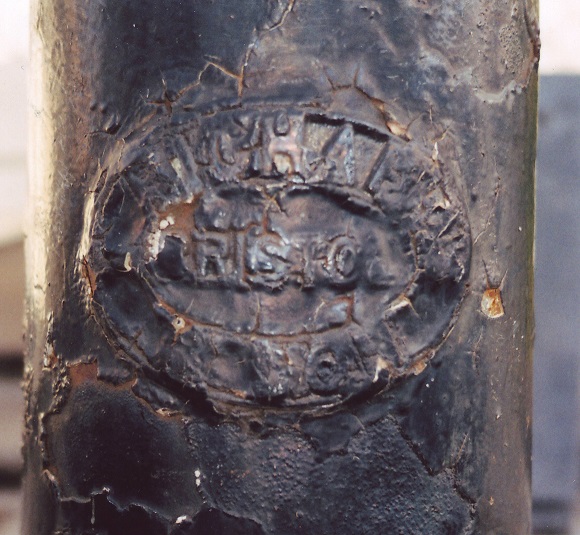 Founder was Edward Richards- skilled blacksmith manufacturing hooks, trivets, iron hoops and sundry ironwork. Son Edward expanded with manufacture of gutter brackets etc. Thomas Richards also iron founder from 1886. The business was transferred to 7 Cart Lane Temple. In 1914 the "Brass Knocker" public house in Church St, Temple was taken to form the last premises.
Victoria Road, St Phillips (Thomas). Church Street (Edward)
1886- present day

founded in 1785 in Bath, England. They were the builders of a variety of engineering products ranging from Dock cranes to construction plant and household cast iron items. They went out of business in 1989.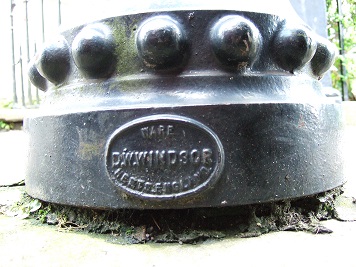 Make replica posts. Examples in Sion Hill (installed 1991).
Hertfordshire
1976 onwards
Inspection Covers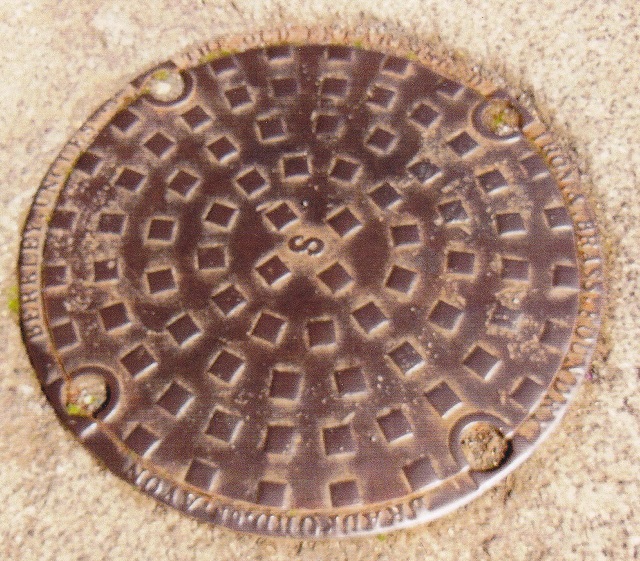 Uncles' products are the most common in Bradford's streets because the foundry in Trowbridge Road was the longest lived.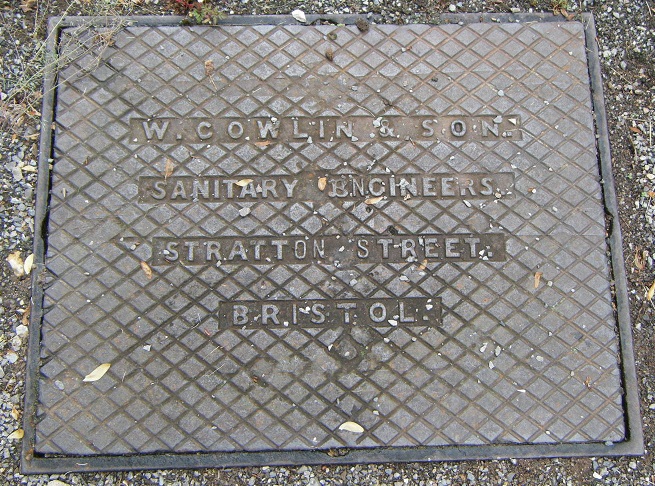 This cover in Clifton Hill House garden (1750). The firm of William Cowlin & Son Limited was founded in Bristol in 1834, 1914 Builders and decorators, and formed into a Private Limited Company in 1924. Specialities: church building and restoration, armoured concrete work, general building. The change of name to Cowlin Construction Limited was formalised in 1997.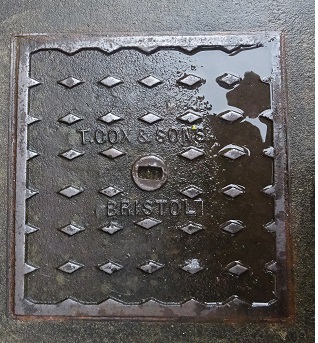 Inspection cover in Hillside, Clifton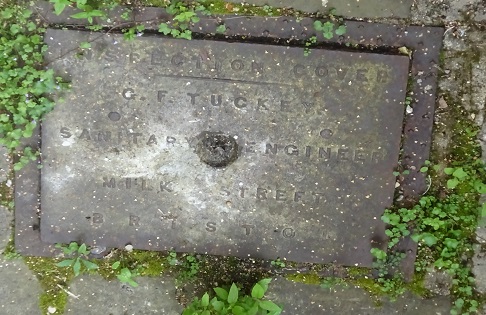 Inspection cover in 10 Berkeley Square, Clifton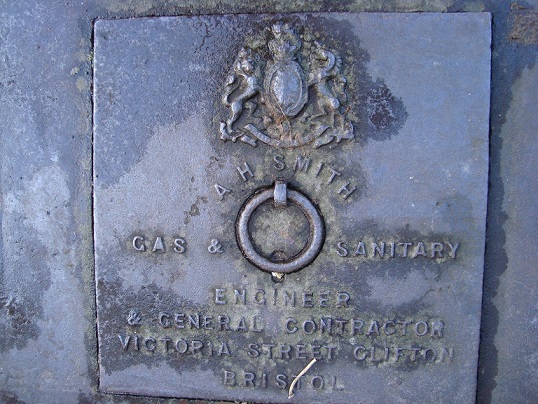 This inspection plate is to be found in the garden of 7 Royal York Villas. I would love to know if there are any more like this!, or indeed any other unusual ones. Ambrose Hudd Smith started trading as a plumber in 1862 at Nelson Place (this is in the area of Nelson House in Princess Victoria Street), then 1865 at 4 Nelson Buildings. In the same area a painter, chimney sweep, gardener, livery stables, and the Greyhound operated. In 1876 he started to trade at 7 Mall Place round the corner, and then moved back to 7 Lower Nelson Place where there was also a clothes dealer, lodging house, carpenter/undertaker and a forage stores. In 1882 the street became known as Victoria Street but he didn't seem to operate as a plumber again until 1884 at 10 Victoria Street. The livery stables was next door, and then the Greyhound. He moved to 5 Westfield Place in 1906 and stayed there until 1911, at 10 Canygne Rd between 1912 and 1913, 1914 in Victoria Street, and Portland St between 1919 and 1921. He stopped trading in 1923 so he had been a plumber for 61 years in the same area. Royal York Villas was built in 1885, so perhaps this wondrous plate celebrated the opening of his newly built premises.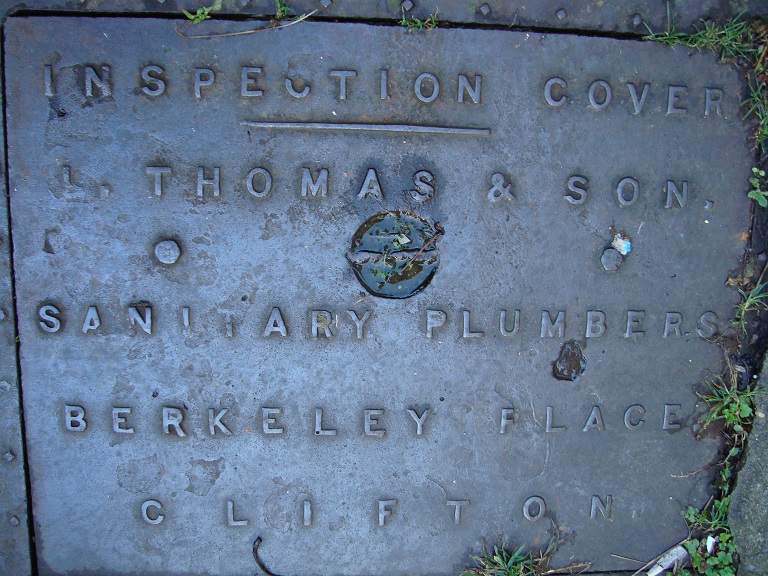 The plate at 6 Royal Villas is of L Thomas and son, the sanitary plumber, operated from 11 Berkeley Place from 1862, 16 Berkeley Place from 1867, and 42-4 Triangle West upto 1958 so his company operated for nearly 100 years.
Coal Hole covers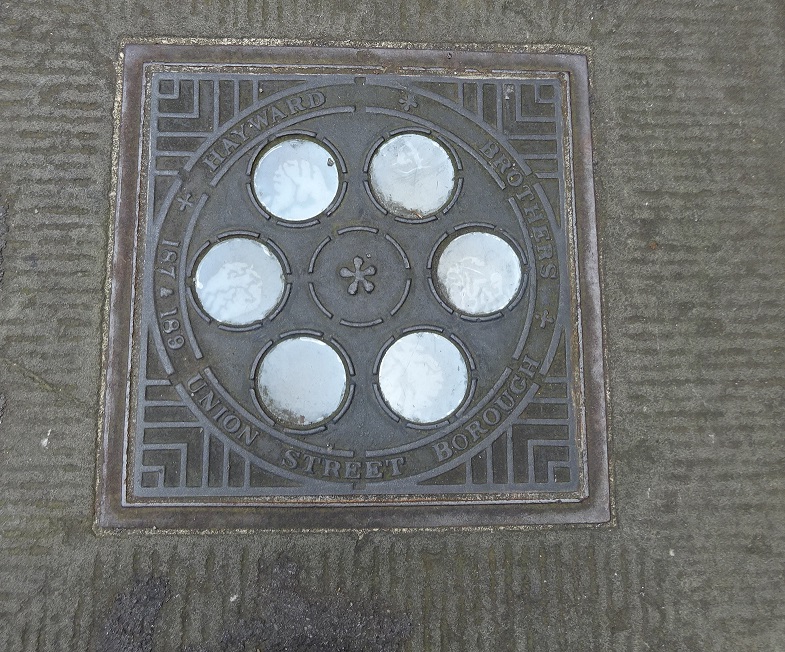 There are a large number of Hayward Safety Plates around.
The Hayward brothers were William and Edward Hayward, part of a notable family of glaziers and glass-cutters, who made the move into the ironmongery trade when they bought the business of Robert Henly in 1848. A lease was taken out from the Ecclesiastical Commissioners for 187, 189 Union Street, London and later on, in 1875, as business expanded the two houses, 191 and 193, next door were acquired and adapted to meet the needs of manufacture. Hayward Brothers did all their own castings on site. By 1921 the Borough works were proving to be too cramped and a new factory was created in Enfield but some work was still retained at Borough. They also developed and patented a semi-prismatic pavement light (ppen grills let in some light, but also the elements, whilst merely inserting discs of glass gave a very poor quality of light), also seen around Bristol.
Coal plates which were just discs placed over a hole could be dangerous either through slipping on them in wet or icy weather (hence the patterns of grooves and incisions), or through being left open or unfastened either in error or by children playing in the streets. The Safety Plate was a lock and twist affair that prevented unfortunate mishaps
Bollards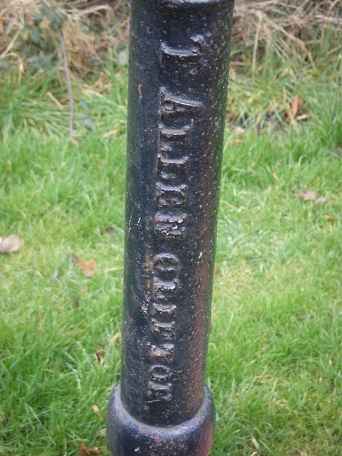 Mr Thomas Allen started out as an ironmonger in 1841 based in Rodney Buildings and Berkeley Place. He branched out into furnishing ironmongry in 1844, bellhanging, kitchen ranges and wrought iron manufacture in 1847 trading from Nelson Place and had a factory on Clifton Hill. In 1852 he was trading from Regent Place. He then branched out into stove grate manufacture and then patented and manufactured tubular bedsteads. His factory then moved to 87 Hotwells Road. By 1876 his offices for his patent tubular bedsteads were at 12 St Augustines Parade. They were advertised as being specially adapted for Hospitals and Lunatic Asylums as well as for general use and avoided the wear and tear of bedding. The company ceased trading in 1887.