The ups and downs of Clifton Rocks Railway and the Clifton Spa. The definitive History by Maggie Shapland.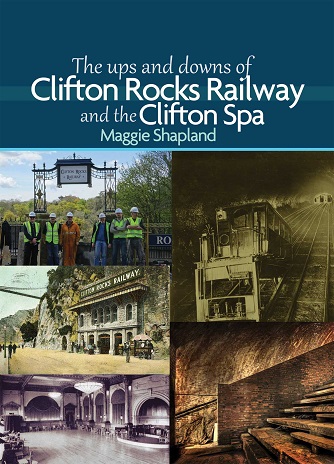 Published by the Bristol Industrial Archaeological Society for the Clifton Rocks Railway Trust in November 2017. ISBN 978-1-908905-05-5. £15 to pick up from 97 Princess Victoria Street Clifton Bristol BS84DD or order online from www.cliftonrocksrailway.org.uk. It is extraordinary value for money.
This is a major work by a BIAS member, the culmination of 12 years of research and a year to put all that research into a most comprehensive historical record. Beautifully produced in hard back form with 317 pages of facts about a forgotten part of Bristol's history, there are 430 illustrations which make you realise the depth of research carried out by Maggie. For those of you who are interested in family research, there are 121 names. The 12 years research have produced a fascinating collection of oral histories from those who remember travelling on the railway, to those who experienced the Bristol Blitz, working in the Balloon squadron, and reminiscences of the remaining few BBC personnel. Unfortunately one of the major contributors "Molly Foss", the BBC's war time engineer whose notebooks were an invaluable resource in telling the BBC story, is no longer with us.
Not only has Maggie Shapland investigated the historical context of this remarkable enterprise which goes back in history to the early 1400s, she has added to our knowledge of early Clifton history, and the springs. There is a whole chapter on the exploration of the financial and business story in depth with intricate details of the wheeling and dealing of those involved, hence the title 'ups and downs'. George Newnes MP the famous publisher, Sir George Croydon Marks, The Merchant Venturers, Sir George White's Bristol Tramways and Carriage Company, Bristol City Council, local architect Philip Munro, and George George the master blaster that contributed to the construction story and the rise and fall of the business of the railway. The War time story with lots of oral history accounts including, the BBC, the Ministry of Works and subsequently the various Hotel Proprietors all add to the flavour of the story. Even the fact that she lives in the garage that the hotel used to own, and was requisitioned during the war to hold military vehicles presumably from the barrage balloon squadron.
Maggie has spent an inordinate amount of time on the technicalities of creating the Clifton Rocks Railway: how to build a tunnel in solid (carboniferous limestone) rock; how it operates; how and who maintained the railway. The Woolley ledger (described in BIAS journal 44) was a mine of information and a wonderful donation to the amazing accumulation of historic artefacts amassed by the work of the dedicated volunteers. The last chapter deals with the controversial subject of preservation versus restoration, and gives a statement of significance of both the wartime and the railway history to show that the railway is unlikely to ever run again.
The many images are used to good effect. Many are historic, many are in colour, many not seen before.
This all started in 2005 by volunteering to paint the recently re discovered forgotten ornate railings of the once classically Victorian grand entrance to the top station of the Clifton Rocks Railway, now restored to it's former glory entirely by the work of the volunteers and paid for by funds generated from lots of "Tunnel Tours" and inspired by Maggie Shapland's enthusiasm for the preservation of this Victorian Ship Wreck as Matthew Tanner (of The SS Great Britain Trust) once likened this project to. He said it reminded him of his own project 40 years ago.
Having been a small part of this story as an active volunteer and seen first hand the drive and enthusiasm put in by Maggie, it gives me great pleasure in recommending this book to you.
Mike Taylor
Country walks from Bath by Andrew Swift ISBN 978-0-9933988-1-0. Published by Akeman Press £15. 239 pages. November 2017. Profusely illustrated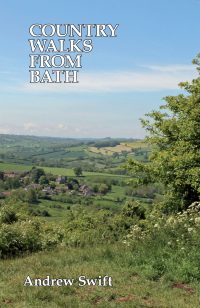 This collection of walks is a sequel to those in One Foot in Bath. This however is based in the surrounding countryside. The integrity of Bath's rural setting is largely intact from the eighteenth century. Iron age hillforts, Civil War battlefields, lost pleasure gardens, abandoned towpaths. hamlets, gabled manors, tiny churches, country pubs frozen in history.
Early industries of canals, tramways, inclined planes, stone quarries, railways, coal, mills, are evident.
All the walks start and end south of Bath Abbey. The first 4 walks go along the Northern and Southern Escarpment, the rive and canal, and Lyncombe Vale. They then go north, beyond Batheaston, along the Avon valley, to Titfield, and then east to Farleigh and Claverton. There is a good section at the end giving more detail about features of the walks. The copious images both old and new show features on the walk to look out for. The maps are good, and walks vary from 7 miles to 17, the last two needing to catch a bus to get back to Bath. A book like this really helps you enjoy the walk and look out for things you may not notice otherwise.
Ghost signs of Bath by Andrew Swift and Kirsten Elliot. ISBN 9780993398803. Published by Akeman Press £16.99. 292 pages. Profusely illustrated
Well what can one say! Prolific authors Andrew and Kirsten have nailed it once again (to coin a phrase). This really is a fascinating insight into the forgotten history of the every day life of the people of Bath over the last 300 years or so. We all walk past these signs and probably do not give them a second thought to the stories behind the images, of the sign writers the artists , designers and the trades many lost to history and the people and families involved in those trades that made the hustle and bustle of every day life happen. Interestingly the reason that they exist at all is due to local and national politics as the politicians of the day did not like the proliferation of trade signs hanging out side every shop etc like pub signs today!!
Perhaps all cities deserve a book like this as every where you look there are many old trade signs of historical importance. ,I only hope the more significant have preservation orders on them. As Maggie and I know all too well how fragile such signs are and how easily they are destroyed by unscrupulous builders who have no interest in preserving history. We recently lost a Farriers sign in Clifton which was lost with in a couple of hours of it being exposed. Luckily a photograph was taken at the time for posterity. We have also arranged for a Victorian sign in Clifton to be restored very delicately, and of course Maggie's own garage doors are much admired by all who pass.
The intimate detail and depth of research 10 years I believe is to be admired as it has created a most rewarding book. Any one visiting Bath could well have this as a travelling companion as it lets the visitor into a more intimate side of the cities history other than the well known site of the "Baths". For the more inquisitive visitor the maps are invaluable as it brings the city to life and transports you back to a different era.
It would be nice to be a fly on the wall in 100 years time as this book puts a whole new emphasis on " Graffiti". What will people be saying I wonder ? To say every sign tells a tale would be an under statement as this book proves there are many stories attached to each sign even if you do not want to walk the streets of Bath. The book is just a brilliant historical read and rewards in the telling of the tale of every day life as it was. How things have changed over the years: from fashion to our shopping habits and the variety of produce ,trade and crafts available. I absolutely love it. Mike Taylor. More details http://www.akemanpress.com
Walks from Bristol's Severn Beach Line. Andrew Swift. Akeman Press. August 2014. Softback 276 pages. £15.
This book covers 16 walks differing in length between 4 miles to 13 miles covering Lawrence Hill, St Annes, Floating Harbour, Frenchay, Kingsdown, Clifton, Leigh Woods, Ashton Court, Sea Mills, Patchway and even one walk from Severn Beach over the Severn Bridge to the Wales Coast Path. This book is more than just a walks book with maps and pubs, it is a veritable mine of information! It is profusely illustrated with colour plates and historic photos, a huge amount of historical detail on points passed, including quotes from the Bristol Mercury, a good bibliography and a history of the Severn Beach Line. The walk from Lawrence Hill to Temple Meads covers the Midland Railway and the Harbour Railway pointing out remaining artefacts and showing just how much the route has changed in the last half century.
The diversity of Bristol is amazing. A wonderful book which puts each route into context with its industrial past. More details http://www.akemanpress.com/books/walks-from-bristols-severn-beach-line
Filton Airfield through Time. Andrew Appleton. Published by Amberley Publishing, The Hill, Stroud, GL5 4EP November 2012. ISBN 978 1 4456 1011 5
This is 235 x 165 mm, paperback with 96 pages. It has 180 sepia and colour illustrations throughout. Price £14.99
This is another in the large series of Amberley's books of places through time. Sadly it is being published at a time when it has just been announced that flying at Filton will be ceased in December 2012. A "save Filton airfield" campaign remains in full swing in an attempt to block the sale for development for 9,000 new homes to be built. Many critics claim it is the beginning of the end for the Aero industry as a result. Many historic buildings have sadly been lost. Many of us went to see the wonderful flying displays at Filton including the Vulcan. At least it has also very recently been announced that BAE have pledged £2.4 million towards a permanent Concorde home and for the Bristol Aero Collection Trust. Another application for Heritage Lottery Fund will be made. The wonderful collection that was in the BAC hangar at Kemble will then also be displayed in far better conditions, so history at Filton is not totally lost.
Andrew is a volunteer with the Bristol Aero collection and has been interested in this airfield since 1994 when he moved to the West country so is an ideal person to have written this book. The book is split into six chapters and covers the early years; between the wars; the expansion; post war; supersonic travel; and sadly reuse and decline.
It is a good summary of the story and not too technical, but with many lovely pictures which emphasise the story from when Bristol and Colonial Aeroplane Company, was founded on 19 February 1910 by transport entrepreneur Sir George White. Clearly the early photographs have been in several books, especially after the celebration in 2010, when BAC 100 celebrated the achievements of the aviation industry in the West of England for the last 100 years, but Andrew has made a good choice.
It was good to see pictures of Pegasus House, and air raid shelters, and sights of the airfield from the air at different times as well as the photographs of the many aeroplanes that were constructed here including a couple of the last flight of a Concorde that many of us turned out to see.
The Bristol aircraft industry is a well loved part of Bristol's heritage and is an important part of British aviation history so this book is a timely reminder. For many years, the Bristol Aero Collection has been formulating plans to build an aviation heritage and learning centre museum in the Filton area. The arrival of Concorde at Filton in 2003 increased public awareness of their aims, and has led to significant backing from major companies and organisations. Let us hope that this book will help the cause.
On Foot in Bath: Fifteen Walks around a World Heritage City by Andrew Swift.
280 pages, many coloured photographs including historic ones. ISBN 978-0-9560989-4-8. Published by Akeman Press August 2012 £15
This book is timed to coincide with the 25th anniversary of Bath's designation as a World Heritage Site. The walks are Within the Walls 1.25 miles to look at the old city; Palladian Pleasures 3 miles to cover the Georgian expansion; Beyond the North Gate 3 miles to cover Walcot St, the Paragon and Broad St; the East 5 miles to cover Larkhall and the London Rd; the country 3.5 miles to cover Lyncombe and Widcombe; New town 3 miles goes over the river to Bathwick (my old stamping ground); Tivoli 6.5 miles- Combe Down and Prior Park; Lansdown and Beckford's Tower 6.5 miles; River, Rail and Industry 7 miles– westwards to Twerton; 5.5 miles over the fields to Weston; 4.5 miles Sham Castle and Smallcombe; 4 miles hidden suburbia at Bear Flat, Oldfield Park and East Twerton with some industrial buildings; 2.5 miles green roofs of Snow Hill and London Rd- unfortunately much ruined by planners in 1950s; 2.5 miles recreating Jane Austen's Northanger Abbey heroine's walk on Beechen Cliff. Bath unfortunately appears to have been ruined in the 1960s onwards as much as Bristol but this book manages to show areas with an industrial past such as Twerton in two of the walks. These walks range from gentle strolls around the city's streets to challenging climbs through woods and along country lanes to visit spectacular buildings high in the hills above. A companion book to Literary Walks in Bath: Eleven Excursions in the Company of Eminent Authors
I love books like these because they make you look around and notice things. I do wish it had a list of photographs and an index, since those not familiar with Bath may find it difficult to find details of sites they were interested in going to but were not too sure where they were.
Available from 58 Minster Way, Bath BA2 6RL Tel: 01225 310364. info@akemanpress.com http://www.akemanpress.com/ Postage free in the UK

Bristol's Forgotten Coalfield: Bedminster by Mike Taylor and Maggie Shapland
All profits will go to South Gloucester Mines Research Group for their continued conservation work.
This 144 page book has been the culmination of 3 years work by Mike and Maggie with the help of many. The book covers over 268 years, has over 430 family names in the extensive index and is crammed with facts, statistics, maps and pictures about the mines, the accidents, methods of work and local stories. Cover price £15. We hope you will enjoy this book.
You can order on line on http://www.sgmrg.co.uk or contact Roger Gosling on 01454 883607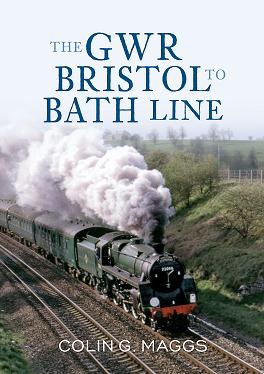 The GWR Bristol to Bath Line: Colin Maggs. Published by Amberley 2012 £18.99. 224 pages and 200 early sketches and early photographs ISBN 978-1-4456-0193-9

This very comprehensive book covers planning from 1824, construction, opening and development of the line up to the present day. It also covers passenger train services, serving industry, locomotives and shed, accidents and mishaps. It is full of facts and figures and pictures of artifacts and people from the time and puts everything into context. How the advent of the railway affected stage coach operators, and canals is explained. The chapter on the navvies was very welcome and gave background to social history of the time, as did the harrowing chapter on accidents and mishaps. The wartime pictures of flattened trains were amazing. This has got to be the definitive publication on our 12-mile section of the GWR line. It is not just another book on railways, only aimed at railway fanatics but a well-rounded book that can be enjoyed by all written by a well known railway historian who has a very thorough knowledge.
BIAS Histories number 3: The Rise and Fall of Bath's Breweries: 1736-1960. Mike Bone May 2012.
40 pages, some sketches and photographs. ISBN 978-1-908905-02-4 Price £4 (£4.60 p&p) from Stewart Burroughs, Museum of Bath at Work, Julian Road, Bath BA1 2RH. 01225 318348 As would be expected, Mike Bone's meticulous research is evident. What a pleasure to see his work reprinted as a BIAS history, renewing interest in this fascinating aspect of social history. For all you beer drinkers, you will be aware of all the changes in the industry and the huge loss of pubs, but interestingly the rise of micro breweries such as the Bath Ales. A thoroughly good read, of interest to all who like history. Perhaps Mike could be persuaded to write up 1960-2012- the next years who knows? Or Bristol's breweries.
Men of Iron: the Fussells of Mells by Robin Thornes. Published by Frome Society for Local Study, 2010. 202 pages, photographs, plan and diagrams. ISBN 978-0-9565869-1-9. £11.50, £15.50 inc post and packing.
This is a widely researched and significant study of the varied activities of the industrious Fussell family of Mells.
By way of introduction to the family's involvement in local industry the author offers a number of glimpses of iron working on the East Mendips from mine to finished article between 943 and 1760. A wealth of 44 footnotes is indicative of the wide swathe of material, some of it original documentation and some of it scattered publications, which has been called on for this chapter.

The mid 17th century marked the first recorded appearance of the Fussell family in the area. In 1646 [p.28] the name of James Fussell I [the roman numerals refer to the family tree in Robin Atthill's 'Old Mendip' (David and Charles, 1964/1971) p.94]. But it was a century later before James Fussell III (1710-1775) began to develop major iron works in and around the Wadbury Valley. With their aggressive, and often irregular, acquisition of new sites, the family were progressively able to enhance production to meet a rapid growth in the demand for edge tools resulting from the agricultural revolution at home and the development of the plantation colonies overseas. There was also a call for shears for the mechanised woollen industry at Twerton.

By the early 19th century the Fussells' Upper and Lower Works in the Wadbury Valley were producing large quantities of edge tools and other ironware, and in addition James ventured into further locations in nearby valleys. The story here includes the 1804 wartime inventories of the products and the machinery on the two sites in the Wadbury Vallay, including nine water wheels at the Lower Works.

James and other members of the family set up several businesses in the locality. In the 1870s James and his son John III (1783-1855) operated woollen mills at Farleigh Hungerford and Nunney. John and his brother Thomas (b. 1785) by 183 had taken a substantial interest in collieries at Vobster and Coal Barton, a reference which here leads to a study of coal in the Nettlebridge Valley, Down and Warrington ('The history of the Somerset coalfield', David and Charles, n.d) although they refer to these mines do not mention the Fussells] partly in the hopes of supplying the steel works which had been set up at Seend [Roy Day has written a fuller account of these in BIAS Journal 12 (1979)]. In the 1870s and 1880's cousin William Fussell (1830-1911) started a small business providing wooden handles for the tools the family made. By 1881 he had diversified into garden furniture and equipment [Atthill has an advertisement for garden furniture placed by William Fussell in 1881 in Harveys Frome Almanack (p.85)]. As one other example of the versatility of the family James Fussell IV (1748-1832) became involved with the planning of canals and his invention of the balance lock of 1798 [chaper 3]. Some family initiatives were more abortive than others: the youngest of John Fussell's sons, Walter Fussell [p139], tried to reintegrate the irnworks at Stoke Lane into the family empire after it had been in other hands for over a century, but althogh he included heavy agricultural equipment in his products his efforts endured for only a twelvemonth.

Several members of the family were concerned with local affairs over the years from the 1790s, when James Fussell IV acted in the capacity of a diligent magistrate, through the 1850s and 1860s when the Rev. James Fussell VI (1813-1833), the Vicar of Chantry opened a new school there and eventually became a H.M.I.. John Fussell IV (1816-1890), a cousin of James VI, was from the 1860s a churchwarden at Mells, one of his younger sons became assistant overseer for the poor, and another played the organ and taught the choristers. Several of these family activities are explored, and there are chapters on the life style of the Fussell family, not all of whom were popular, and their employees and their relationships with their neighbours.

But the epic story is of the huge Lower Works in the Wadbury Valley, the subject of so much altercation with the Horner family between the late 1820s and 1841, and the site which was the last to survive in Fussell ownership. It was also the site which was explored and excavated by BIAS in the 1970s; a brief report of the findings was published (BIAS jornal 8, 1975) and although a fuller account has not appeared the papers are with the Somerset Heritage Centre. Other records of the dig were deposited in the archives of the Downside School, whose archaeological society also partticipated in the excavation.

From 1860 onwards the family's main edge-tool business struggled to maintain its production of hand-crafted goods in a trade dominated by larger enterprises in the Midlands, and even elsewhere in Europe and the Americas. The result was a succession of revivals and collapses, until in 1894 or 1895 the business, which by now survived only in the Lower Works in the Wadbury Valley, was amalgamated with Isaac Nash of Belbroughton. Late in 1895 Nash moved the business to their own premises. The Fussell company was finally wound up in August 1900.There exists one earlier, though brief, account of the Fussell dynasty of iron workers, and it is perhaps useful to refer to Robin Atthill's chapter in 'Old Mendp'. The Fussell family terr on p.94 is an examplary example of the genre with all the available family dates. Atthill's sketch map (p.5) is also an ideal model, with a compass point, scal and main arteries, often lacking in the volume under review. Thornes has many good illustrations, some familiar, some new. None is as evocative as the grim photo on page 181, of 'the [skeletal] Lower Works after the removal of the machinery in 1900'.

The main branches of the business which occupied the succession of sites in and around Mells and Nunney, are those which receive the most attention in this book, but there are many diversions, and the family ramifications have made it difficult for the author to organise his material: the problem is that there is so much of it. In this respect we can not accept the authors own view that he will miss his study of the Fussells 'now that it is completed'; for history is never completed – and Robin Thornes has no business to put down his pen.
Subterranean Britain: Bath Stone Quarries by Derek Hawkins, Folly Books, Monkton Farleigh, BA15 2QP www.follybooks.co.uk £24.99 ISBN 9780956440549 216 pages. Many coloured photographs.
Dec 2011: This superbly presented book is a credit to Derek Hawkins. The reproduction of quarry scenes capture the atmosphere in astonishing detail and with excellent photographs. There are also many nineteenth century photographs of masons and quarrymen.
The text gives the reader an insight into the history of these unique sites, which are only accessible to experienced underground explorers or no longer enterable such as Combe Down which has been mostly infilled now.
There are also a richness of archaeological remains recorded for posterity as time takes its toll on metal artifacts and wonderful underground cranes and scenes ancient and modern. Often the downed tools look like men have just left for lunch and would return soon.
The unique cranes hauled and lifted the cut stone onto flat bed trucks, which in turn were pulled by horses to the surface store before the stone could be worked by skilled masons, to decorate the fine residences of Bath and elsewhere in the country. Ashlar is coming back into fashion and of course in great demand for restoration. This is keeping the traditions alive.
The maps add an extra dimension that gives the reader an insight into the use of these extensive and numerous underground working, that have left their mark on so many buildings around the world as a legacy for all these quarrymen who toiled with crude tools for hundreds of years.
The book is split up into chapters on the areas of Combe Down (3 sites), the Avon Valley (12 sites), Box and Corsham (14 sites).
Also evident are many place names and farms which will help the inquisitive identify the quarry sites easily. Some have footpaths, some are on private land and others which are not in active production have been put to other uses, such as the secret seat of Government, when Nuclear war was possible. Most were requisitioned by the government during the Second World War and have wartime equipment still in place. As the climate is very stable, one quarry is now a high security document store, and another which can be visited by appointment, is now fascinating wine vaults.
One area not previously covered by such publications is Derek's insight into how the stone was taken to market. There are some really good pictures of the canal system.
It must be said that whilst the book deals with the historical aspect of the surface and underground quarries. Derek also brings you up to date with the current methods of production. The change in products can be quite dramatically seen. Remarkably an old Sampson coal cutter is still doing sterling service.
Derek's unique experience has allowed him to give you a comprehensive experience without getting your boots dirty. A truly superb publication and worth every penny.
A Century of Sand Dredging in the Bristol Channel. Volume One: The English Coast and A Century of Sand Dredging in the Bristol Channel. Volume Two: The Welsh Coast.
June 2011. Historic books by Peter Gosson: Published by Amberley Publishing Volume 1 £16.99, Volume II £14.99 . An engineer by trade, Peter Gosson is a much respected maritime historian who has focused on coastal trade and ships in the Bristol Channel. His father was the master of the Bristol sand dredgers. He has written a number of maritime articles in both local and national magazines as well as given talks all over the South West and South Wales.

These volumes are a fantastic history of human endeavour with some personal and wonderful stories. The pictures and illustrations more than adequately augment the text to make the books an interesting read in their own right. Peter has to be admired for accumulating so much information over 30 years. I really enjoyed the read as there is so much historical information – not to be expected from dredging. This includes the war, coal, engineering. There are some brilliant pictures of Charles Hill and Bristol Docks, a look at the ships, then a look at their backgrounds. The books have been written for the anniversary of sand dredging in the Bristol Channel on 13 June 2012. It is amazing how much has changed in so short a time from their inception in 1912. The books fill in a void of the history of a busy port, dictated to by one of the highest tidal differentials in the world. A must for all Bristol historians as well as shiplovers.
The Avon Navigation
April 2011: BIAS histories Number 1 by Dr. Brenda Buchanan. Published by Bristol Industrial Archaeological Society. It can be purchased for £4 (£4.60 p&p) from Stewart Burroughs, Museum of Bath at Work, Julian Road, Bath BA1 2RH. 01225 318348
This article was originally published in Bath History in 1996. Dr Buchanan recounts the efforts of the Corporation of Bath to prepare plans to improve the navigability of the River Avon between Bath and Bristol culminating in an Act of Parliament in 1712. By 1724 these powers were transferred to a group of local entrepreneurs who set about the task of making the river suitable for traffic from the Pulteney Weir to Bristol. The author fully describes the various works that were undertaken to achieve this aim. Clearly written and nicely illustrated this BIAS histories will be of interest to all readers, but particularly those who wish to understand this vital trade link between Bristol and Bath and the canals beyond Bath.
 BIAS histories
Queen of Waters
1 December 2010: A beautiful book by Kirsten Elliott published by Akeman Press at £20. 204 pages with many colour photographs- incuding many historic ones, to celebrate 200 years since the opening of the Kennet and Avon Canal which goes from Reading to Avonmouth. Both technical and a glorious journey from start to end of the Canal. A true journey in time.
The Bristol Dock Company 1803 to 1848 by Peter Malpass
published by AVON LOCAL HISTORY and ARCHAEOLOGY July 2010
Volume 5 of our well respected series of books is just about to be published
The Bristol Dock Company was set up in 1803 to finance, carry out and operate the improved harbour which had long been urged. But the Company structure and capital reflected the local politics and tension which had delayed actions hitherto, and which continued to handicap its operations over its 45 year life. It was never popular (see the front cover illustration, rejoicing at its demise) and was much criticised in its lifetime and subsequently, but this detailed and fully documented account sets out to show that most if not all its weaknesses arose from the compromises and constraints built into its very foundations.
Order (using the form below) and send it, together with a cheque for £3.50 (made payable to "Avon Local History and Archaeology") to:
Mike Leigh, Business Manager ALHA Books, 43 Long Eaton Drive, Whitchurch Park, Bristol. BS14 9AW
Your Name:……………………………………………………………………………………………………………………
Your Address:……………………………………………………………………………………………………………….. And who wrote it? Peter Malpass. Peter Malpass is professor of housing and urban studies at the University of the West of England. He has written extensively on housing and housing policy, and organised an exhibition in 2005 marking 100 years of council housing in Bristol. He is now working on a long term study of the urban history of Bristol, which has already led to the book 'Bristol's Floating Harbour: the first 200 years' (with Andy King, published by Redcliffe Press in 2009) So, to be sure to receive your copy, complete this form and send it, together with a cheque for £3.50 (made payable to "Avon Local History and Archaeology") to: Mike Leigh, Business Manager ALHA Books, 43 Long Eaton Drive, Whitchurch Park, Bristol. BS14 9AW Your Name:…………………………………………………………………………………………………………………… Your Address:……………………………………………………………………………………………………………….. …………………………………………………………………………………………………………………….
Bristol's Floating Harbour: The first 200 years. Peter Malpass and Andy King. Redcliffe Press May 2009. £14.99. 160 pages, profusely illustrated.
A superb comprehensive history with lots of photographs. Much has been written about the history of Bristol and refer to the Floating Harbour especially up to the end of the nineteenth century. This book was written in time to celebrate the harbour's 200th birthday. It brings the story up to date, and also offers a different interpretation which questions and challenges aspects of the course of events during its history. It is structured around four transformation and covers the planning and building of the harbour; the arrival of Brunel and development in response to economic and technological changes from 1860; in war and peace and the end as a commercial port; and regeneration including the controversial Councils planning history from 1969.
Frog Lane Colliery: sixty years on. South Gloucester shire Mines Research Group and Yate and District Heritage Centre. SGMRG May 2009. £12.00. 104 pages, profusely illustrated with photographs from Burrows, Dorothy Hewitt and English Heritage.
This book was put together to commemorate the closure of Frog Lane Colliery- the last deep pit in the Bristol Coalfield. Frog Lane (Coal Pit Heath) has been briefly covered in other books, but this book not only covers the colliery details, but oral history of the surviving miners and their families. The colliery started to be sunk round about 1853, was taken over by NCB in 1947 and finally closed in 1949 due to limited reserves in the two workable seams coupled with increased pumping load following the closure of Parkfield in 1936. Again a very readable book and puts everything into context.
The Knife and Fork Man (The life and work of Charles Benjamin Redrup) Bill Fairney (2007)
The Industrial Archaeology of the Bristol Region Buchanan, R. A. and Cossons, N. (1969). The pioneering book
The Batsford Guide to the I.A. of Central Southern England Buchanan, C. A. and Buchanan, R. A. (1980). Lists of sites are provided
Guide to the Industrial Heritage of Avon Day, J. A. (1987). Lists of sites are provided
The Making of Modern Bristol Dresser, M. and Ollerenshaw, P. (1996). Useful book on related economic and business development
Bristol & Co: the story of Bristol's long-running businesses 1710 to the present day Reid, H. (1987). Useful book on related economic and business development
Somerset IAS has re-issued "Men and Mining on the Quantocks" by John Hamilton.
The book, originally published in the 1970's has been unavailable for many years. It describes the somewhat ill-fated attempts to mine copper in the late eighteenth/ early nineteenth centuries in the region of Dodington near Nether Stowey. The original author has continued to research the subject and the new edition is much enlarged, and includes other mining ventures in the region.
The book will be available at BIAS meetings from Geoff Fitton at £10. It can be ordered from Geoff at Giles Cottage, Hill Lane, Brent Knoll TA9 4DF with a cheque to SIAS for £12.50 to cover postage
Kingswood Coal – new book
10 April 2008: 40 pages of information about coalfields in Bristol and South Gloucestershire produced by South Gloucestershire Mines Research Group.
"The History of the Somerset Coalfield" by C. G. Down and A. J. Warrington. Originally published in 1971, this book is considered by many to be the definitive history of coal mining in Somerset. Containing many photographs, maps and diagrams, this 288 page hardback book costs £25 plus £2.75 for delivery. Reprinted by the Bristol Industrial Museum
"My life as a Somerset Miner" by A. J. Parfitt.(Price £4.50), while "Somerset Mining Memories" is available on DVD or video at £15.99. Reprinted by the Bristol Industrial Museum
The annual issues of BIAS Journal contain reports on local research and reviews of most IA books published in recent years.
Avon Local History Handbook Moore, J. S. (ed.) (1979) includes guidance to sources on transport, industry and other features of modern urban life, as do references in articles in BIAS Journal.
The Industrial Archaeology and Industrial History of South Western England a Bibliography Greenwood, J. (1999) provides a comprehensive list of publications on all aspects of IA in the region.