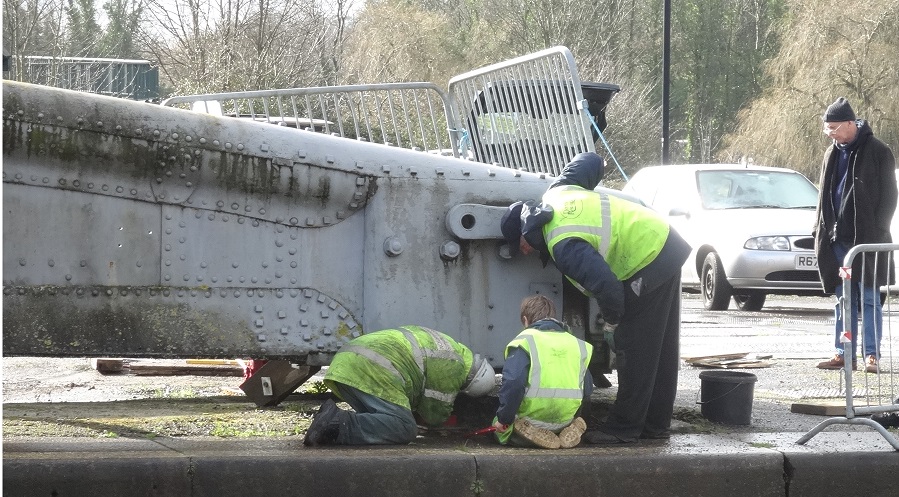 Alf died peacefully on Wednesday evening, 2nd November 2016 after a cardiac arrest on Friday. He did not regain consciousness and suffered no distress. The family were all with him.
Alf left an enormous legacy of achievements in the historic harbour and wider afield. However he had not finished this work; and with his usual farsighted vision, he was still working towards improving and enhancing harbour facilities.
He was involved with the restoration of the Brunel Swivel Bridge (known as BOB, Brunel's other bridge), which lies disused under the Plimsoll Bridge. It has proved a difficult project, and a major scheme failed about 8 years ago. So a small group of us has been working to develop a new project, and Alf has been a key player in this.
Alf was a valued member of our Technical Team from an early stage in the project, providing encouragement from his vast knowledge and experience. He provided useful technical information about the historic hardware surviving in the City Docks, and about other bridges in the UK and abroad. Geoff Wallis describes Alf as 'a thoroughly reliable structural engineer of vast experience, particularly in relation to bridges of all types. He made quick and wise decisions if he had sufficient information, and if not he would ask the right questions, judging the validity of answers carefully. He was a gentleman at all times, and had a great sense of humour.'
However it was his experience of recent regeneration and conservation projects that was also invaluable to us. He was a true expert, and shared his wisdom and expertise with modesty and a light touch.
Alf gave valuable advice on how to develop a scheme that would be attractive to the Heritage Lottery Fund, and helped fill in the necessary forms. He and I had just finalised an initial application form to the Heritage Lottery Fund, and when I got their positive response last week, my first thought was to phone Alf to tell him.
He brought valuable experience of fund-raising and provided the names of useful contacts in many local organizations. He was a skilled 'politician' and was using his experience and networks to engage representatives of the city council in the bridge project. We will feel his absence terribly.
Michael Bussell wrote "I'd known him for quite a while, firstly when we both worked at Ove Arup & Partners, and later after he had set up his own consultancy. We shared a practical interest in 19th century engineering: we were in the Arup team that bid for (and did some) work on the SS Great Britain and its dock a while back, while more recently I was a sounding board for his thoughts on the scheme to repair / restore the splendid Victoria Bridge in Bath, and the Bristol Underfall Yard development plan. He also served of course as a Trustee of the Clifton Suspension Bridge – the third trustee I have known, after my Bristol Civil Engineering 'pedagogues' Professor Pugsley and Stuart Cullimore. And I believe he was involved with the Swivel Bridge.
"I heard the news via Arups. I shall miss his creative thinking and our lively discussions.
He was not a member of BIAS, but he contributed much to the understanding and conservation of engineering landmarks in the Bristol region.