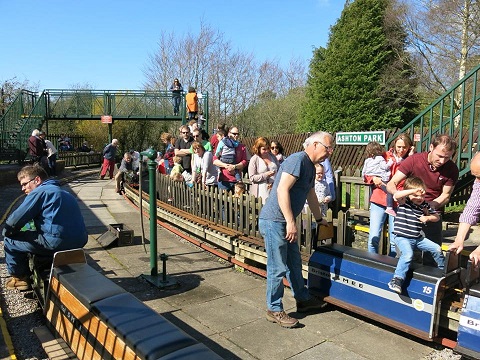 The background is that Bristol Society of Model and Experimental Engineers operates a miniature railway in Ashton Court Estate, Bristol. This includes a railway with three gauges: 3 1/2 and 5 inch on a raised track and 7 1/4 inch and 5 inch at ground level. Both circuits are about a third of a mile in length. There is also a grass tracked traction engine circuit laid out inside the raised railway track. This is best suited to the larger scale engines. The site is provided by the Bristol City Council, the infrastructure, track, rolling stock and locomotives by the Society.
The BIAS connection is that the model railways workshops were officially named to commemorate the late Geoff Sheppard who was both BIAS chairman and BSMEEs President in his time.
There is a very real possibility that the railway will cease to operate following the end of the 2018 season. Bristol City Council are proposing not to renew their lease on the site as they intend to use the land for alternative activities.
Bristol SMEE is a volunteer run, charity based, organisation that has built and operated this railway over the last 45 years. Over this time, it has given countless hours of enjoyment to the wider community in and around the city of Bristol.
If this happens the consequences will be:-
No more Ashton Court Railway
No more birthday parties events
No more Santa visits
No more charitable events
A popular family attraction which has been based at Ashton Court for nearly half a century is at risk of closing down – after the council considered not renewing their lease.
The Ashton Court Miniature Railway has operated on the same site – near the golf course – since 1972. The railway is run by the Bristol Society of Model & Experimental Engineers (BSMEE) and is very popular with both families and railway enthusiasts.
Chairman Norman Rogers said he fears the miniature railway could be priced out of Ashton Court Estate. We have a lease with Bristol City Council for the land and it expires towards the end of the this year, he said.
It is not yet clear what other plans the council might have for the site, should Ashton Court Miniature Railway fail to renew its lease.
A Bristol City Council spokesperson confirmed they were looking at new income generating opportunities at Ashton Court because the miniature railway generates very little money. We are looking for new income generating opportunities at Ashton Court, and the miniature railway site is one of the sites being considered, the spokesperson explained.
What the council do not seem to get is Lady Symth gave that estate to the people of Bristol for all to enjoy. It was not given for the council to make money.
Please sign the Engineers petition to save Ashton Court Railway!
http://bit.ly/SaveAshtonCourtRailway
We would dearly love to get 3500 signatures by 30th of August so that we can submit the petition to Bristol City Council and trigger a debate at the Full Council meeting on 11th September, so please sign now and SHARE this post to help us reach more people! And if you have not contacted your local councillor yet, nS Great Britain (their classic book "IA of the Bristol Region" published 1969 says it is still in the Falklands) nearly went to San Francisco.
They helped form public opinion. Sir Neil then staged a 5 year meteoric career and helped save the bridge at Ironbridge from collapse (he was their first director from 1971), director at the National Maritime Museum, Greenwich from 1983. From 1986 to 2000 he was the director of the Science Museum, London. From 1989-95, and 1999-2000 he was an English Heritage commissioner. He was pro-provost and chairman of council of the Royal College of Art from 2007 until 2015. In 2000, he took over as chairman of English Heritage, a post he held to 2007. In 2016, he was appointed a Trustee of the National Heritage Memorial Fund/Heritage Lottery fund.
Sir Neil then gave a talk about reminscences and nostalgia. He was delighted to be at Green Park station which was so nearly demolished. BIAS has been present at, and influential in key events round the Bristol region. BIAS is still here, thriving, true to the cause for what it was set up for. People are often the same people doing different jobs and have also helped internationally. Bath is an International Heritage centre. Engineering in the area is world class- note the number of Stothert and Pitt cranes still operating round the world. The Kennett and Avon Trust saw volunters digging the canal out for fun and get the aquaduct preserved.
Bristol is still the least planned city- who else would build a dual carriageway through Queens Square and want to fill in the docks? Beamish was born in 1970.
In 1968 everyone started to collect stuff and look at scrap stuff and try to save it. 1964 saw the centenary of the Clifton suspension bridge, Bush House was one of the first conversions of an industrial building in 1975 (now Arnolfini) surrounded by profoundly bad buildings. Regarding the future, he suggested that BIAS could put plaques up to famous industrialists, and we still needed a home for the 1861 horizontal winding engine (the oldest) from Old Mills Colliery still sitting in L-shed. We need a visionary strategy and HLF is working on a strategic 5 year plan due to the diminution of local authority funding. Industrial Heritage is on the agenda. Volunteers are more stable than councils. We look forward to seeing Sir Neil's talk in this years journal.