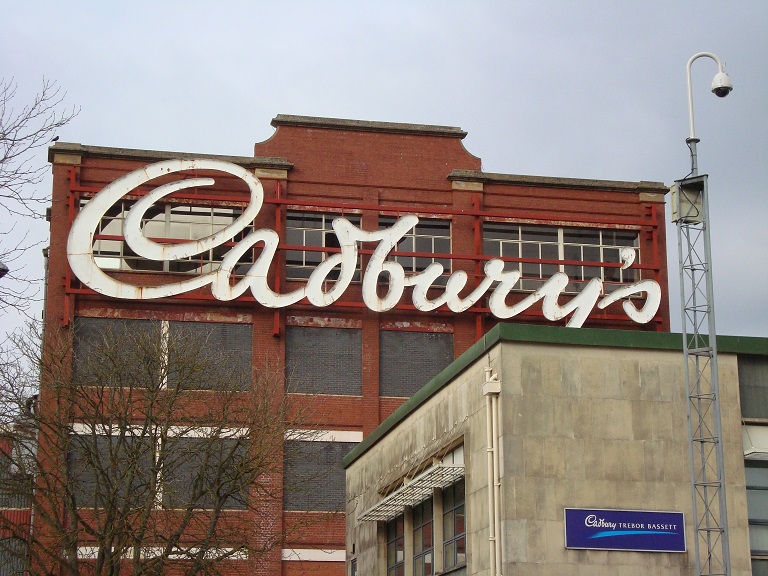 5 October 2015 (report from the Bristol Post)
The iconic 'Cadbury's' sign has been removed from the former chocolate factory at Somerdale in Keynsham. Bystanders gathered with their cameras and iPads to record the moment workers used a blow torch to cut through the steel frame that attached the four tonne Cadbury's sign to the front of the 1930s famous factory.
The factory once employed 6,000 people in the town but Cadbury announced the closure of the Somerdale site in Keynsham in October 2007. A glimmer of hope was raised in 2010 when Kraft, who bought the company for £11.5 billion and said it would save the site. But shortly after seizing control Kraft announced the factory would in fact close with the loss of 400 jobs.
And in the sunshine yesterday morning the 22 by six metre sign was carefully removed from the building and one of the last landmark reminders of the company was no more. After the sign was dismantled the apostrophe – with the permission of Cadbury's – was presented to Hugh Evans who is the Fry's archivist. Mr Evans started working at the factory in 1975, and his career included roles as a microbiological technician, hygiene manager and quality, health and safety and environment manager. "Cadbury, or Fry's as it was originally, was a good company to work for," Mr Evans, whose favourite chocolate is Turkish Delight, said. "A lot of people of my generation did 35 to 40 years' service. It was a stunning setting to work in and we had lots of fun and lots of laughs."
The removal of the sign is the latest milestone in the transformation of the site, from former industrial use into a retirement community, by the charity the St Monica Trust. The £60 million scheme will create 151 assisted living apartments and a 90-bed care home when it opens in spring 2017, as part of the wider development by Taylor Wimpey. The St Monica Trust's Chief Executive David Williams watched the removal of the Cadbury's sign. Mr Williams said: "As the Cadbury's sign came down we felt that we were witnessing a moment in history, and we start work on transforming this landmark factory building. This site has meant so much to generations of local people, including Hugh Evans. We are delighted to be able to present the Fry's Archivist with the apostrophe from the iconic Cadbury's sign. All at St Monica Trust are looking forward to our role as custodian of this landmark building, and most importantly, to giving it a new life as a high-quality and welcoming retirement community."