In 1879 – Robert Strachan and George Henshaw formed their partnership in Victoria Street, Bristol, to make the first ever automatic paper bag-making machine. They gained widespread recognition for their innovative engineering. Tramcar equipment started to be an important growth area. The company had two distinct strengths: paper and printing equipment and mechanical handling. In 1999 – Strachan Henshaw Machinery entered into receivership and closed in March 2000.
Justin Edwards went on a tour of some of the Imerys china clay works and found some of their products and kindly sent me these photographs.
The Strachan and Henshaw Beetle is a system for moving rail wagons without the need of a locomotive. The Beetle runs on its own track between the normal rail lines and is operated by a chain and winch. Once positioned under the wagon an arm with a roller on the end is extended against the wheel of the wagon and the beetle is then moved dragging the wagon with it. The system could be found in such places as collieries, oil refineries and power stations in the past but these days few still exist. The pictures show a Beetle used at No.8 Jetty at Fowey for moving china clay hopper wagons in and out of the unloading shed.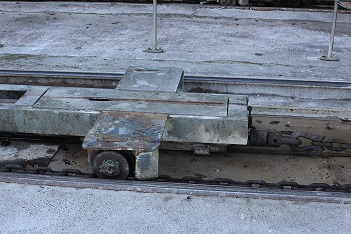 Also at Imerys china clay there is a drying plant (Parkandillack Driers) with an old pumping house. This was in use until the mid 1950's and apparently the engine, though no longer used for pumping, can be still run using compressed air.