Westmoreland House, 104-106 Stokes Croft and 4 Ashley Road, Bristol, BS6 5NP June 2017 The Carriageworks has yet another new developer! Looks very promising. Following much recent speculation the Carriageworks Action Group can now confirm that the new developer is the Bristol based PG Group. They have exchanged contracts with Opecprime (aka Comer Homes) to purchase the freehold of the Carriageworks and Westmoreland House site and aim to start building in January. More details https://carriageworks.org.uk/ The PG Group have given us this statement to publish:
"The PG Group has acquired the site from Opecprime Properties Ltd with the benefit of the planning consent granted in July last year, and will now start work on a wide range of preliminary assessments," said Stuart Gaiger, PG Group Development Director. Mr Gaiger said purchase of Westmoreland House would allow the creation of a development that could contribute positively to an already vibrant community and that the company had already made contact with the Carriageworks Action Group with a view to keeping the community involved in the development of the projected scheme. "We want to deliver an enterprising development that respects and reflects the community ethos and, given the independent spirit that flourishes around the area, we look forward to some lively and interesting discussions."
Lori Streich, Chair of Carriageworks Action Group, said: "We welcome this news that PG Group are buying the Carriageworks and Westmoreland House site. For over 25 years the communities adjoining Stokes Croft have lived with the neglect and dereliction. As a local developer we hope that PG Group will have the skill and commitment to deliver a development of which the community can be proud". Current Timescale
Summer 2017 – appoint design team, site investigations and surveys, building regs, planning pre-commencement conditions etc
October 2017 – demolition begins
January 2018 – construction begins
Summer 2020 – completion of development
Monday 10 June 2013 6:30pm, a chance to meet the potential developers. Salvation Army, Ashley Road.
Residents and organisations in St Pauls, Kingsdown, Montpelier and Cotham are now working with the City Council to write a Community Vision for the future of the whole site including and the adjoining Westmoreland House on Stokes Croft. The Carriageworks is a Grade II* listed building on the buildings "at risk" register.– the big derelict buildings near the Ashley Road junction. Details of the Carriage Works Action Group can be found on http://carriageworks.org.uk/
Application Nos 07/05763/F and 07/05764/LA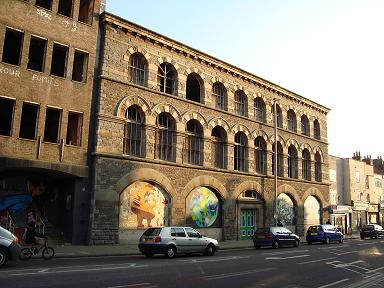 April 09: refused due to lack of quality, design of new roof and buildings, height increase to Westmorland House
Feb 09: The Panel considered the reduction in the total number of flats from 186 to 152 did not affect the previous comments as follows:-
This was considered to be an important site on a main route into Bristol within a Conservation Area, containing two listed buildings, one Grade II* and overlooked by three other Conservation Areas. It presented an opportunity for a high quality, sustainable development to act as a stimulus to the long-awaited regeneration of Stokes Croft. What was proposed was an over-intensive use of the site. : four and five storey blocks containing 186 housing units of, mainly 1 and 2 bedroom flats with inadequate amenity space, running counter to the City Council's adopted and emerging policies. Cramped units, would be detrimental to the listed buildings and to the regeneration of the Stokes Croft. Godwin's Carriageworks, required sensitive restoration and appropriate use within its internal space.
There was no argument to reinstate the height and bulk of the existing tower. A tower conflicted with the general scale of the area and dominated this important site, which was overlooked by 3 Conservation Areas, and on an important route into Bristol. The proposed 3-storey car park would be excavated 2 storeys into the ground and would disturb the Civil War works. No 'as existing' drawings of the Carriageworks were provided. Details of the existing external walls and the rear wall were not given. The front of Westmoreland House must not compete with Tucketts Buildings or the Carriageworks and must be a background building. The proposed building contained too many floors. No. 4 Ashley Road had been deliberately neglected. The Panel would regret its loss, which must be fully justified. The Ashley Road frontage was the wrong scale, too high and also took the large scale of building from the principal road into the secondary road.
The Panel strongly objected.